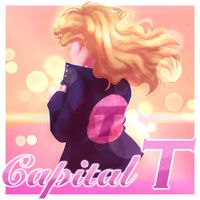 Thank you to Music Trails for the nice  review of 'Capital T'!
"Canadian singer-songwriter Jaxony Reign delivers the catchy pop song "Capital T" as her first single released in 2021. In the song she expresses her feelings about unexpectedly falling madly in love with someone who may not be good for her. The lyrical hook of being in trouble with a Capital "T" highlights how she knows where things are headed but she still can't stay away from him. 
The fun, upbeat instrumentation flows with Doo-Wop and Indie-Pop elements and Reign delivers her vocals with a fun musical style reminiscent of Meghan Trainor, which will likely encourage listeners to keep an ear out for more of her songs in the future. 
"I have songs that are fun, songs that are sad, songs that have attitude, songs about what's happening in the world – they're not all about love," she says.  Jaxony Reign has also said that she is just getting started and that she's excited to share music that makes her listeners feel the intended emotion of each song. 
If "Capital T" is an example of her future work, her catchy hooks and outside-of-the-box lyrical ideas will make her music something to watch out for."